Relevant sirtuin publications
A PubMed search for "sirtuin" yields nearly 2000 publications.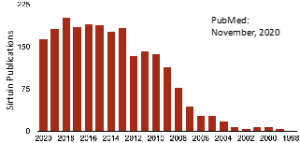 What we are providing here is a curated selection of reports with relevance to Evrys Bio's proprietary SIRT2 inhibitors follows.
Sirtuins regulate viral replication
SIRT control of viral growth is conserved from bacteria to humans.
Anti-viral activities of sirtuin 2 inhibitors
SIRT2 inhibitors block replication and spread of multiple RNA and DNA viral pathogens.
Acosta, Bowlin, Brooks, Chiang et al 2020. The clinical path for new anti-cytomegalovirus drugs, and the potential of SIRT2 inhibitors for this application. Lillian Chiang, Evrys co-founder and CEO, is a co-author.
Piracha, Saeed, Kim, Kwon et al 2020. SIRT2 isoforms are recruited to the hepatitis B virus cccDNA, modulating epigenetic marks on the viral minichromosome and controlling its transcriptional output.
Hackett, Dittmar, Segrist, Pittenger et al 2019. Tenovin-2 (SIRT1/SIRT2/SIRT3 inhibitor) and sirtinol (SIRT1/SIRT2 inhibitor) inhibit representative alphaviruses, bunyaviruses and flaviviruses.
Cheng, Ren, Cai Jiang and Chen 2018. The hepatitis B virus HBx protein elevates SIRT2, which in turn promotes viral replication and hepatocarcinogenesis.
Piracha, Kwon, Saeed, Kim et al 2018. SIRT2 enhances hepatitis B virus transcription through the AKT pathway.
Yu, Jiang, Cheng, Hu et al 2018. The SIRT2 inhibitor, AGK2, inhibits hepatitis B virus replication in vitro and in vivo.
Mao, Li, Ding, Meng et al 2016. Sirtinol (SIRT1/SIRT2 inhibitor) inhibits the production of cytomegalovirus progeny in cultured fibroblasts.
Kanda, Sasaki, Nakamoto, Haga et al 2015. Sirtinol (SIRT1/SIRT2 inhibitor) blocks hepatitis A virus replication by antagonizing function of its internal ribosomal entry site (IRES).
Anti-microbial activities of sirtuin 2 inhibitors
SIRT2 inhibitors block replication of multiple intracellular microbial pathogens.
Bhaskar, Kumar, Khan, Singh et al 2020. Inhibition of SIRT2 restricts the intracellular growth of Mycobacterium tuberculosis and enhances efficacy of the anti-TB drug Isoniazid in the murine model of infection.
Pereira, Chevalier, Chaze, Gianetto et al 2018. Listeria induces phosphorylation and nuclear localization of SIRT2, which then supports its replication.
Gogoi, Chandra, Sarikhani, Ramani et al 2018. SIRT2 inhibition reduces pathogen organ burden and associated tissue damage in a mouse model of Salmonella infection.
Anti-cancer activities of sirtuin 2 inhibitors
SIRT2 inhibitors block cancer cell growth and activate T cells in the tumor microenvironment.
(Cell Metab. 2020 Sep 1;32(3):420-436.e12. doi: 10.1016/j.cmet.2020.07.008. Epub 2020 Aug 7. PMID: 32768387)
Sirtuin 2-null mice predict that SIRT2 inhibitors will be well tolerated